2017 Programme
The JSIam takes place in three steps:
Morning session: talks by industry representatives & debate – 

9:00 am – 12:30 pm
During this session, up to five invited industry veterans from companies specialized in distinct fields will give a talk about the role and the impact of doctors in their companies. The presentations will be followed by a discussion in two steps: a time-slot will be given to the industry visitors to respond to various questions previously asked by researchers and posted by them on our website, and attendees will afterwards be able to interact directly with the speakers. Please note that all talks will be delivered in English.
Speakers:
| | | |
| --- | --- | --- |
| Dr. Carole Loable | PhD. R & D Engineer, Constellium | |
| Dr. Raphaël Meyer | PhD. CEO Co-founder of Lancey Energy Storage | |
| Dr. Emilie Schell | PhD. Junior scientist in Biophysics at Sanofi Strasbourg R&D center, Sanofi | |
| Dr. Mikayel Arzakantsyan | PhD. Technical and R&D support, application manager, OptoSigma  | |
| Dr. François Pacull | Chief Technical Officer, Bag-Era | |

Part 1:Mid-day session: Midi-MINATEC, 

12:30pm-2:00 pm
« With a global experience on research & technology management, [he] had the crazy idea two years ago to start a start-up adventure.

And Sylfen is born on June 5th 2015! »
Part 2:
During the lunch time, young researchers will be able to meet interested professionals, and discuss around a sandwich-buffet.
If you are a company, a start-up or a foundation interested in connecting with young researchers, don't wait and contact us.
We will be delighted to welcome you and offer you the opportunity to present your activities to young researchers (PhD students, postdoc fellows, etc) with a booth displayed in Maison MINATEC. It could be job offers, training, grants opportunities or any pieces of advice to help them developing their professionnal project and career.
It's free, just send us an email to : jsiam@giant-grenoble.org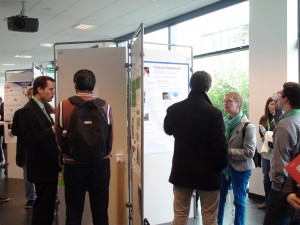 Afternoon session: round tables – 
2:30
 pm-5:00 pm
During the afternoon, several round-table topics involving professional experts will be hold (2 sessions of one hour each). Researchers will have opportunities to get answers to their questions. They will be to ask for advices and opinions pertaining to their industrial or scientific CV for corrections or fine-tuning.
« Get ready for your CV and your cover letter « 

Pole Emploi Cadres-Mme Delidais, M.Chabert

sessions held in French 

« Case study on Innovation & Energy : advice and opportunities in the energy field » (working title)

Presentation of InnoEnergy I_Schuster

l'Arche aux Innovateurs : « How to transfer your skills into innovation processes? » (all fields)

"Identifying and marketing your skills as a PhD »

Berenice Kimpe, ABG Intelli'agence

As a PhD, you have developed many skills that can be used in both academic and industrial environments, not just scientific skills. They will help you to make the jump from academia to industry.What are they? How can you relate them to your experience? That's what you're going to discuss in this workshop! Advice and tools on how to market your skills will be given at the end of the workshop.www.mydocpro.org